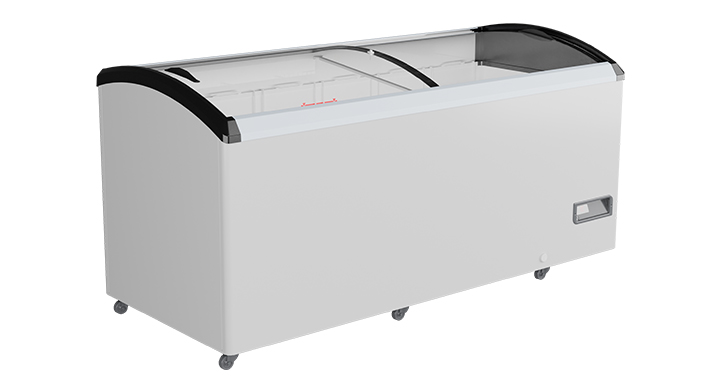 Bonnet type freezer M800SF with a combined plastic and aluminium profile – is highly efficient commercial equipment with modern design, large exposure volume, practical and easy in use. The model is perfectly suited for stores, supermarkets for storage and sale of frozen products – meat, fish, semi-finished products, ice cream, frozen berries and vegetables, etc.
The peculiarity of this model is an improved construction of a frame. Hermetically sealed, with aluminium profile, developed by REHAU engineers, it ensures the vacuum tightness of the freezer and guarantees long-term performance. The units are equipped with curved glass lids and energy-saving built-in LED strips, which minimize the risk of damaging and optimize product loading.
You may choose a configuration for M800SF due to trading space of a store, either using it as a separate unit or assembling a line.
Wide color range allows complementing an individual style of your store.
This bonnet type freezer is energy-efficient and operates at ambient temperatures up to +35°C.
Options:
Branding and lamination
Hanging advertising board
Decorative protective panels
Painting according to RAL system
Dimensions
M800SF
Length
1909 mm
Width
812 mm
Height
930 mm
Net weight
103 kg
Technical data
Gross volume
855
Net volume
603
Climate class
7
Recommended operational ambient temperature
+16...+35 °C
Operating temperature range
-14...-23 °C
Refrigerant type
Refrigerant
R290

CO₂
0,00 t
Refrigerant quantity
0,080 kg
Electrical data
Current consumption
4,0 A
Energy consumption
5,9 kW/24h
Voltage / Frequency
220-240/50 V/Hz
Basic configuration
Baskets
6 pcs
Castors
5 pcs
Lock
1 pcs
Ordering and delivery
Persistently high quality
All units undergo three-stage quality control.
Logistics
We can offer an extra paid delivery option to any place within the territory of European Union.
Comprehensive service
Our Freezepoint team will timely provide you necessary advice and professional assistance.