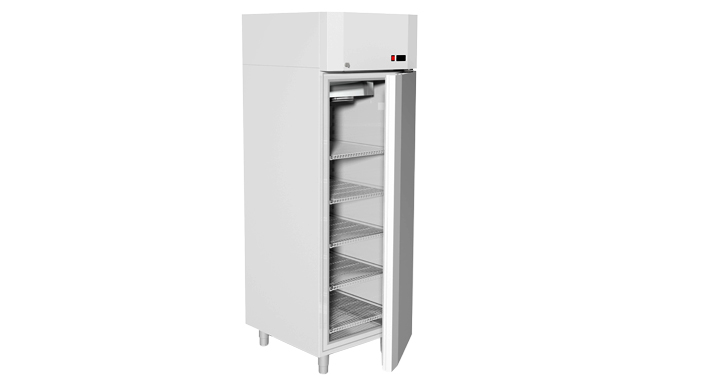 Cooling
and freezing cabinets ND70M
Freezing Cabinet ND70M is a professional commercial freezer that provides long-term storage of pre-refrigerated products at low, stable temperature. Spacious, comfortable and easy to operate. Ideal for kitchens, warehouses, grocery stores, catering establishments.
Options:
branding of any complexity
additional shelves
stainless steel cabinet
3
Dimensions
ND70M
Length
700 mm
Width
890 mm
Height
2075 mm
Net weight
121 kg
Technical data
Climate class
7
Recommended operational ambient temperature
+16...+35 °C
Operating temperature range
-12...-22 °C
Cooling type
automatically
Type of air movement
dynamic
Storage Volume
563 l
Refrigerant type
Refrigerant
R452a

CO₂
0,58 t
Refrigerant quantity
0,27 kg
Electrical data
Current consumption
3,3 A
Energy consumption
8,5 kW/24h
Ordering and delivery
Persistently high quality
All units undergo three-stage quality control.
Logistics
We can offer an extra paid delivery option to any place within the territory of European Union.
Comprehensive service
Our Freezepoint team will timely provide you necessary advice and professional assistance.