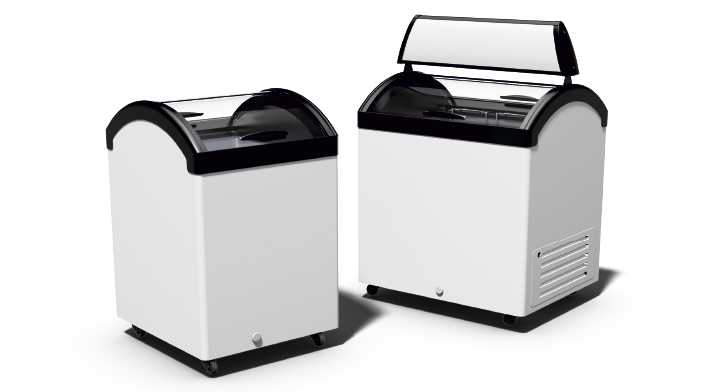 Display freezer with curved glass M100-200V
Exclusive models developed specifically to fit perfectly small shops as well as supermarkets - good extra income using only 0.5 m2. Can be put in any place saving your space.
High capacity
Excellent product visibility
Low energy consumption
Cabinet top frame is made of shock resistant ABS plastic whith PMMA layer
Strong castors ensure smooth and more comfortable movement
Perfect for small shops and supermarkets
Maintenance-free refrigeration unit
OPTIONS: LED lighting, Digital termometer, advertising box, branding
Dimensions
M100V
M200V
Length
596 mm
806 mm
Width
661 mm
661 mm
Height
929 mm
929 mm
Net weight
44 kg
50 kg
Technical data
Gross volume
158 l
240 l
Net volume
107 l
170 l
Climate class
7
7
Recommended operational ambient temperature
+16...+35 °C
+16...+35 °C
Operating temperature range
-14...-23 °C
-14...-23 °C
Refrigerant type
Refrigerant
R404a / R290
R404a / R290
Electrical data
Current consumption
1,4 А // 1,1 А
1,4 А // 1,1 А
Energy consumption
2,9 kW/24h // 1,9 kW/24h
3,14 kW/24h // 2,1 kW/24h
Voltage / Frequency
220-240/50 V/Hz
220-240/50 V/Hz
Basic configuration
Baskets
2 pcs
4 pcs
Castors
4 pcs
4 pcs
Lock
-
-
Ordering and delivery
Persistently high quality
All units undergo three-stage quality control.
Logistics
We can offer an extra paid delivery option to any place within the territory of European Union.
Comprehensive service
Our Freezepoint team will timely provide you necessary advice and professional assistance.