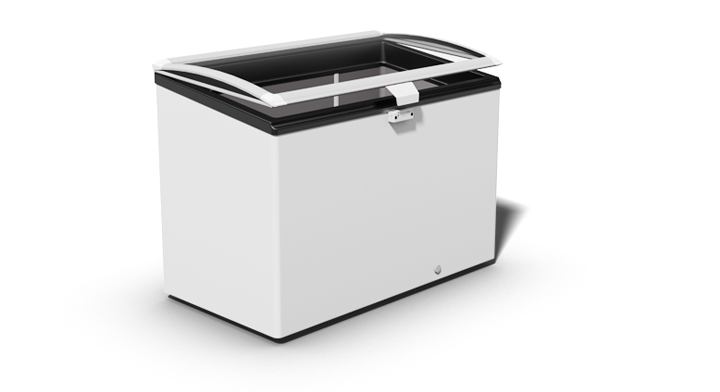 Display freezer with curved glass M400G
Interesting and practical decision for the outlet where the customer service policy and trade organization does not allow self-service. The principal difference between this model and other display freezers - solid glass lid - which provides excellent visibility of the goods. Such display freezer with lift-up glass lid can be perfectly used outside sales where it can be located next to the shop and still be is under the seller's supervision.
Equipped with remote control lock which provides 100% control over the freezer
Easy access and nice product visibility
OPTIONS: Digital termometer, branding , LED lightining
Dimensions
M400G
Length
1216 mm
Width
735 mm
Height
951 mm
Technical data
Gross volume
420
Net volume
340
Climate class
7
Recommended operational ambient temperature
+16...+35 °C
Operating temperature range
-14...-23 °C
Refrigerant type
Refrigerant
R452a/ R290
CO₂
0,34 t / 0,00 t
Refrigerant quantity
0,16 kg / 0,075 kg
Electrical data
Current consumption
1,4 А // 1,3 А
Energy consumption
4,5 kW/24h // 3,6 kW/24h
Voltage / Frequency
220-240/50 V/Hz
Basic configuration
Baskets
5 pcs
Castors
4 pcs
Lock
1 pcs

Other data
Net weight
75 kg

Maximym load for 1 basket
10 kg
Ordering and delivery
Persistently high quality
All units undergo three-stage quality control.
Logistics
We can offer an extra paid delivery option to any place within the territory of European Union.
Comprehensive service
Our Freezepoint team will timely provide you necessary advice and professional assistance.