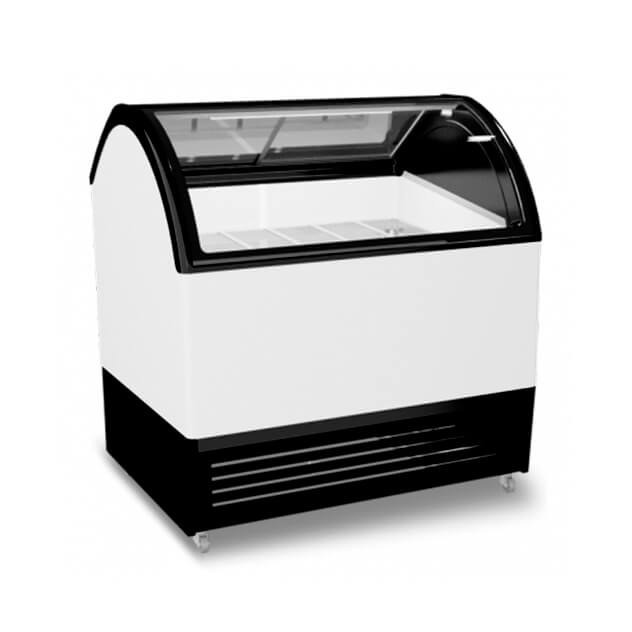 Display freezers
for soft ice cream M12Q
New model range of Q series for gelato. It is characterized by low energy consumption, exclusive design, unusually extended product visibility, eliminated possibility of condensation of moisture on the glass, application of eco-friendly refrigerant R290.
Operation in conditions of the climatic class 7
Exclusive design
Extended product visibility
Low power consumption
Simplicity and ease of maintenance
Possibility of manufacturing the equipment as GREEN LINE version
Tubular type condenser
ІSO COMFORT class low-e double-glass lids with a number of qualitative glass features
OPTIONS: branding, LED lighting
Dimensions
M12Q
Length
1162 mm
Width
906 mm
Height
1248 mm
Net weight
104 kg
Technical data
Gross volume
610 l
Net volume
285 l
Climate class
7
Recommended operational ambient temperature
+16...+35 °C
Operating temperature range
-14...-23 °C
Refrigerant type
Refrigerant
R290
CO₂
0,00 t
Refrigerant quantity
0,09 kg
Electrical data
Current consumption
1,9 А
Energy consumption
4,1 kW/24h
Voltage / Frequency
220-240/50 V/Hz
Basic configuration
Containers/ice-cream flavours

12 pcs
Castors
4 pcs
Loc4
-
Ordering and delivery
Persistently high quality
All units undergo three-stage quality control.
Logistics
We can offer an extra paid delivery option to any place within the territory of European Union.
Comprehensive service
Our Freezepoint team will timely provide you necessary advice and professional assistance.